Campaign

Milk Myths
DON'T BELIEVE EVERYTHING THE "EXPERTS" SAY
When it comes to cat videos and celebrity gossip, there's no better source than the internet. But truth? The internet's not always the easiest place to find that. While there's a lot of great information about milk's many benefits online, there's also a lot of what some call misinformation—and others call utter nonsense. Make sure you get your facts about milk from a reliable source. Luckily, you're on the website of one right now.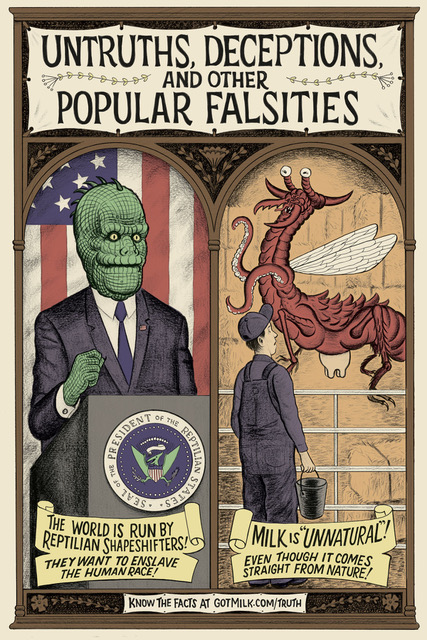 "THEY" SAY MILK IS UNNATURAL
Even though it comes straight from nature
You'd be hard pressed to find a beverage more natural than milk. It arrives to you ready to drink, and totally free of chemicals, additives or sweeteners. Maybe one day science will come up with a drink as naturally delicious and healthy as milk, but don't bet on it.
"THEY" SAY MILK IS ONLY FOR CHILDREN
But it has proven health benefits for everyone
You don't have to be in knickers to reap the benefits of milk. For adults, milk lowers the risk of cardiovascular disease and type 2 diabetes, and even helps lower blood pressure. It's enough to make a kid want to grow up faster.
"THEY" SAY MILK IS UNNECESSARY
Yet people have enjoyed milk's benefits for over 7000 years
To those who claim humans don't need milk, many of our earlier ancestors would beg to differ. Around 5,700 BC, history's first farmers in Central Europe would cap off a hard day of farming and pottery—making with some fresh, real milk. Humanity has been happily following their lead ever since.
"THEY" SAY MILK IS BAD FOR YOU
"They" clearly don't know what they're talking about
What's actually true is that milk has health benefits that range from stronger bones and teeth to reduced risk of diabetes and heart disease. And beyond. Always check the sources to make sure your information comes from experts, rather than "experts."